SiteGround is one of the best Web Hosting providers that offer great plans and features and the best support you can ever find as compared with several other companies. If you are new in the web hosting field and want to try out the best web hosting for your website and want to know the best plan you can use it for your website then this article can help you find out the SiteGround Shared Hosting Plans and Features for your website.
The StartUp is the cheapest among all the plan provided by SiteGround with pricing $3.95 per month and if you want it for regular renewal then it will be $11.95 per month. You will only get only one website for hosting and 10 GB of web space with 10,000 visits approximately. So, if you are looking for hosting a single website with a decent pricing range then the StartUp web hosting plan will be the best one for you.
GrowBig is the most popular plan among its users for website hosting solution. In this plan, SiteGround provides an unlimited website for hosting along with 20GB of web space. This package costs around $19.95/month on renewal and in the initial signup, it will cost around $5.95/month. This plan also offers free SSL certificate for the better security of your website.
This plan is an expensive plan that offers a great feature to its users for web hosting. With a price starting from $11.95 during the signup and $29.95 during the monthly renewal the GoGeek plan offers unlimited website hosting with 30 Gb of web space. As per the price range, this plan also provides you free SSL certificate along with 1,00,000 visits per month along with all the essential, premium and Geeky WordPress features.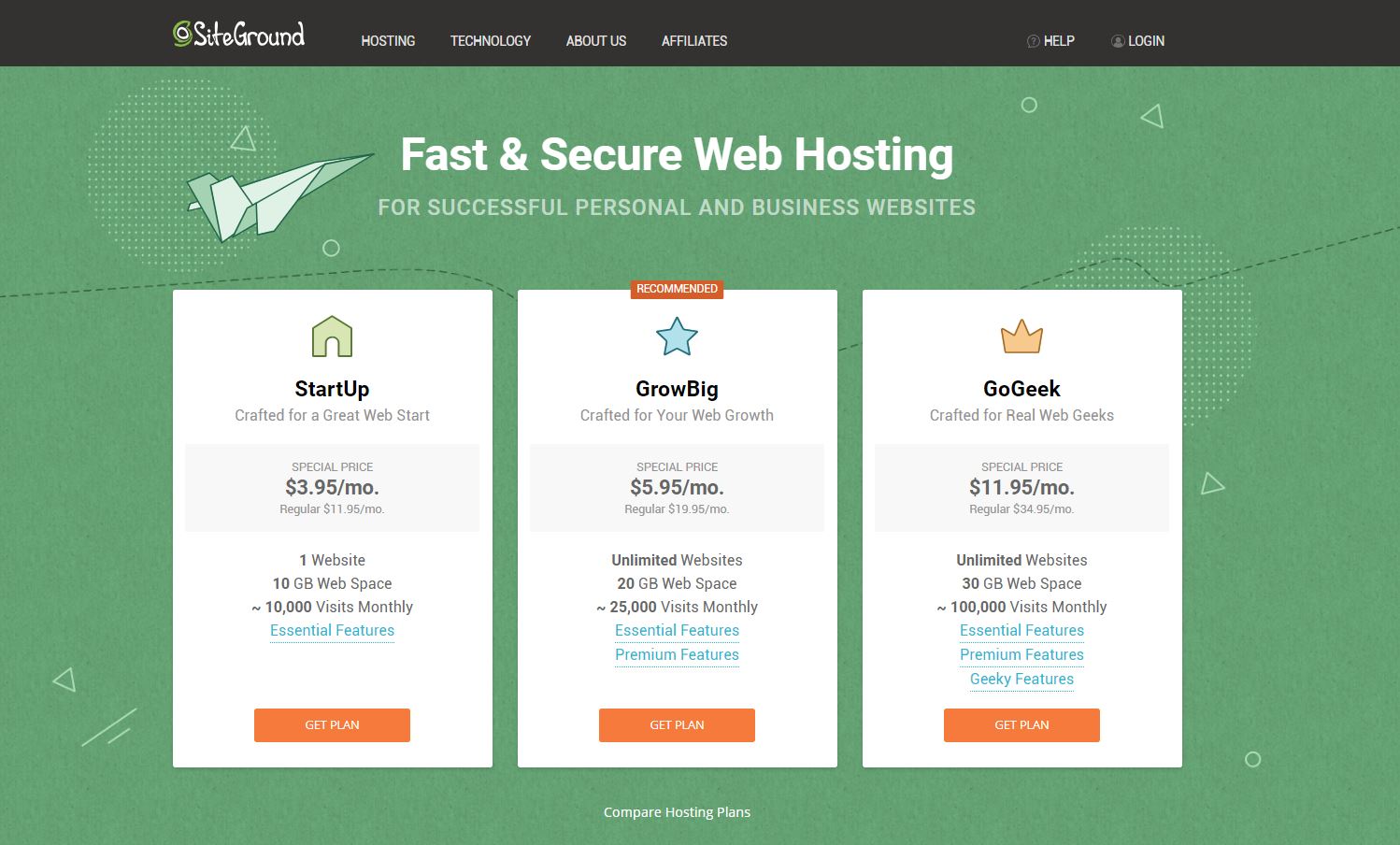 Along with all these amazing plans you also get some great features from the company which satisfies every user need in terms of post-sale requirements. Let us check out some of them below:
SiteGround is known as one of the few companies that offer a good range of storage and bandwidth in every plan you choose. The storage and bandwidth you get in each plan are at a reasonable price so that its customer never gets disappointed.
SiteGround offers standard security features in each shared plan you choose and you will be able to secure your website with SSL and HTTPS encryption.
As per the reviews, SiteGround offers uptime of about 99.99 % with a 100 % success rate. This means that each time you run your website you will not get any lag while loading any web pages of your website and give you better results.
SiteGround is known for its best customer support, they give their services for 27*7 and every time you seek help from them you will be able to resolve your problem within minutes or hours.
Overall SiteGround is a great platform for those who are looking for a complete package in web hosting with amazing plans and features. We hope you liked this review, looking forward to see you again.